25May2016 2030: Sky Thoughts
I'm about to "invest" in the local cooperative's solar panel project. It's an "investment" that will likely not return 100%, but not four years ago the coop newsletter was wetting its corporate pants over the destruction of coal and now they're putting up a solar plant. I'm willing to goose that trajectory with my dollars. I'm getting a panel and I need to pick a name. Got any good sun puns?
I've got some sort of mental block -- I can't force myself to care about repairing shingles. I'm supposed to be gathering quotes for somebody to come around and glue a few malfeasant asphalt rectangles. We're not even getting new ones. That would be a project! That would be interesting! But just caulking around on a ladder? The ennui is palpable and I'd rather update this stupid blog than attempt to look at a phone book. A phone book. Honestly.
I'm almost through with my Dresden Files reread, a hunger sparked by the impending board-card game, and I need to line a book up beyond that. What should I read? Okay, but what should I read if I don't care about a teenager learning that they're a special snowflake and adults are sometimes untrustworthy?
Okay sweet sure let's start this week with a "feat". At least [swell - I'm sorry (feat. shiloh)] isn't a dance song -- unless you count horizontal dancing, because this is a sex jam. And then the demon voices show up and suddenly you're sexing like in Rosemary's Baby. It's only two minutes and thirty-eight seconds long, so for a sex jam that's...well...no, that's fine.
I just had an epiphany: I don't think I like rapping in triplets. [Kweku Collins - Ghost] is another song with a slow beat and a fast rap. That simple formula usually equals greatness in mine eyes, but Kweku has the reggae accent and raps in triplet-time and it grates against my ears.
[Melaena Cadiz - At the Symphony] explains a stoner dream to you with two minutes of country music. Yeah you've seen the London Philharmonic, but have you ever seen the London Philharmonic on weed? Neither has she because she passed out. Melaena can't handle her shit. The fuck, Melaena? Those tickets were like two hundred bucks!
But none of those songs matter because multiple independent sources have been trying to turn me on to Car Seat Headrest - Teens of Denial which is apparently really good? The tracks I've heard have rocked pretty hard but I don't know that I want to listen to a full album of depressed teenagers and alcoholism. I need a hard-rocking album about being awesome and paying off a mortgage and sitting on a patio all day reading a book while drinking beer in a non-alcoholism way.
Guess what I'm doing this weekend?
18May2016 1930: Unexpectedly Manly
It was an incredibly manly day here at Chez Monty. Full day of work. I caulked up my patio door where some birds have been pecking at it. Then I had a beer. Then I decanted the first batch of motherfucking PANCETTA. There are (slightly less than) six pounds of gloriously spiced and gently cured meat in my fridge. That I made. All my years of bacon training have led to this moment. You gots to man up and put your meat where your mouth is.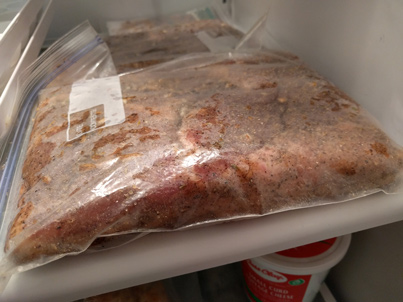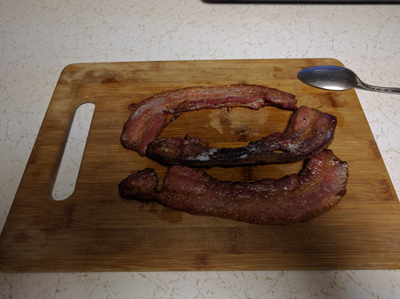 And my fridge smells way better than yours.
What would Cranberries be without the cool accent? Or violins? Or a good hook? [Moving Panoramas - Radar].
[Keys N Krates - Nothing But Space (feat. Aqui)] does terrible things to Aqui's voice in service of dubstep... or whatever the successor of dubstep is. Just last week I was dancing on its grave and here it is to bury an angel's voice under wobbly synths. The track also ends thirty seconds early and fades out to nothing and then fades out to a nothingier nothing.
[Them Swoops - Alright For Me] contains 130% of your RDA of pep. A slight British rock song, more saccharine than Ok Go. I would believe that this started as a Kidz Bop song and this is a cover.
11May2016 1930: The Top of the Hill
Ideally this is the oldest I will ever feel. My lower back has hurt since last night just because I was sitting funny -- it's not particularly funny. I'm seriously contemplating an investment -- not a toy, an investment. I'm about to embark on anthropological research for this year's Ke$ha Cat Show. Dance club music was annoying when I was in the target age range; I can't imagine how painful it's going to be now.
The monthly Google tracks are 80% crap, but they're scattered across every genre and occasionally interesting in their failure. Ke$ha is the prototypical painful free single from way back when I was using iTunes to indulge my aural masochism. In theory I should be prepared, I've been training for this for years. But fifty Ke$ha tracks is just going to break me. The best I can hope for is a swift Stockholm Syndrome. To be able to say "oh yes, I much preferred (this track) to (this other track). Ke$ha was so much realer before she switched from glitter to henna tattoos." I think? I think that happened?
Normally I "review" these "songs" in the order Google poops them into the store list, but I couldn't help myself this month. I had to juggle some around from their natural order because the theme was just too strong. For one week only, here are ALL CAPS REVIEWS OF ALL CAPS BANDS!!
I DON'T KNOW THAT PRINCE EVER WROTE A BREAKUP SONG -- IF SO I IMAGINE IT IS ONLY IN THE CONTEXT OF "NOW I CAN GET WIT' YOU INSTEAD" -- BUT THAT'S WHAT [HÆLOS - Dust] IS. LAYERED FALSETTOS AND A SEX BEAT MOURN A BAD BAD LOVE.
TRICKED YOU, THIS ISN'T SOMETHING GOOD CAN WORK! [HIGHS - Closetalkers] IS A CARIBBEINDIE POP SONG ABOUT BEING SOCIALLY AWKWARD AND IS NOT NEARLY LOUD ENOUGH TO WARRANT THE ALL-CAPS TREATMENT.
[MOON - I Got a Fever] IS THIN LIZZY IF LIZZY WERE A GIRL AND IT'S PRETTY GREAT. IT'S ROCKING ENOUGH TO EARN ITS CAPS AND IT WOULD MAKE A PRETTY GOOD TUNE TO ROLL YOUR WINDOWS DOWN COME SUMMERTIME. CRANK THAT SHIT!
I KNOW ABOUT BRAINFUCK AND I HAVE A PLAYLIST OF SONG TITLES FROM ZERO TO INFINITY AND AND IT'S A "NOT COVER" OF NO DOUBT, SO THERE'S REALLY NO WAY [BRNFKD - Sixteen (feat. Camille Michelle Gray)] COULD HAVE FAILED. BONUS, THEN, THAT IT'S TRIPHOP. IS DUBSTEP OVER? IS TRIPHOP BACK? THAT'S AWESOME!! FEAT CAN'T BRING ME DOWN!
MAYBE IT'S THE CAPS TALKING BUT THIS WEEK OF MUSIC WAS PRETTY GOOD OVERALL!
04May2016 1845: The Itch
I'm feeling it again; that itch in the back of my mind to create something. Summer is here and my laser isn't, so I have an excess of energy that needs to burn off in some endeavour or other. Maybe I'll spend all summer trying different meat curing techniques? Maybe I'll actually buckle down and finish my Batman V Superman script (which totally exists you guys [shut up])? I spend months/years charging my creativity and I have to use it before I explode. But I'm safe for today! A certain song you're about to hear killed my will until I can sleep and recover.
[Empress Of - How Do You Do It (Live)] is Enya getting wild over a 90s dance jam -- and a lot of 90s dance music was remixing singers like Enya already. Some more modern synth shows up in the chorus but the drums and bass are straight out of my teen years. This brought back warm fuzzy memories of trying to ignore the shit on the car radio half my life ago.
[Bleached - Wednesday Night Melody] is surf punk in a vein that they probably still make somewhere on a coast where it doesn't reach me. I can't say much for the lyrics but it's got the right amount of guitar feedback and mopiness to soundtrack sitting on my patio in 90 degrees.
Immediately following the peppy downer wall of noise from Bleached, the arpeggio synths of [Kaitlyn Aurelia Smith - Existence in the Unfurling] hit my ears with a million small stinging sensations. I looked down at my laptop and lo! The vulgarities that did issue! For I saw and beheld that Kaitlyn had put together eleven minutes of synth fuckery. You know what songs are shorter than eleven minutes? Freebird (usually). I Heard it Through the Grapevine. Trapped in the Drive Thru. American Pie. These are all songs I remember as lasting forever, good or ill, and Existence in Blah Blah is longer than all of them. It isn't until you get into the world heavyweights of long songs -- Rapper's Delight, In A Gadda Da Vida, Alice's Restaurant, Shinbone Alley -- that you actually beat out this travesty for objective length. For subjective length I have heard none. None more long.
Any oasis in a desert; [Sorority Noise - Either Way] will sound great if it immediately follows Existence in the Unending. Otherwise it will merely sound like Brad Sucks covering Iron and Wine.